Wearing Mom's Jewelry in a New Fashion
by Debbra Bronstad
(San Luis Obispo, CA)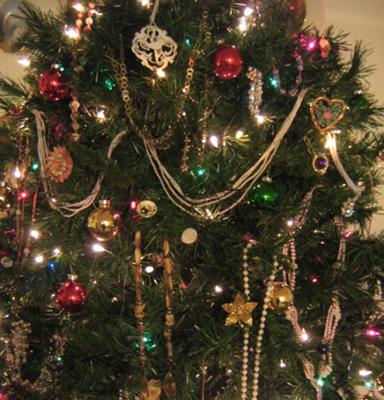 Jeweled Christmas Tree
This is my first opportunity in several years to decorate for Christmas. While I've been in school working on my masters degree followed by my internship, most of our furniture and belongings, including Christmas decorations, have been in storage. The decorations are still buried under eight feet of boxes, but my mom loaned me a tree, lights and bulbs, so I was determined to not say "bah humbug" to Christmas again this year.

I was contemplating how to make the tree "more personal" than simply decorating with plain bulbs, when it occurred to me to use my mother-in-law's jewelry. I inherited a whole drawer full of it. I draped necklaces around the tree and attached jeweled clip-on earrings to the ends of the branches. In the end I knew I had the most unique tree in town! In addition, we have an enjoyable memorial to Hazel that I share with each person who comes in the door and admires our tree.
Return to Hope for the Holidays.